A MILLION MERCIES

&

BROKEN RADIO
sample & hold
A handful of unfinished songs, some instruments, microphones and a laptop in our luggage - this is how we hit the road to Italy for a relaxed recording session. Plenty of good food and wine and it did not take very long until ideas came popping up and inspiration was flowing. So Wolfgang and I decided to do a whole A Million Mercies / Broken Radio album together. Now here are the 11 tracks of "Sample & Hold". We hope you like 'em!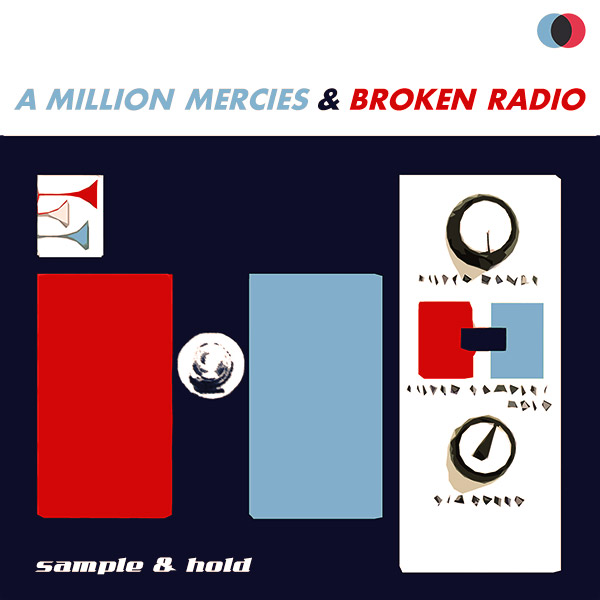 Hausmusik, hm 79, 2014
clickity-clack, cc-05, 2014
Vinyl, CD and download
The vinyl LP and the CD both come in a silkscreen cover and include a 6-page booklet. You can order Sample & Hold from the Hausmusik Label Store, Amazon Germany or Amazon USA (coming soon) and from our Bandcamp page.
Please download the album or single tracks from our site at bandcamp.com. The files are available in your choice of 320k mp3, FLAC, or just about any other format you could possibly desire. Plus unlimited mobile access using the free Bandcamp listening app. Best price and quality guaranteed!
Or check your favorite download store like itunes, amazon, napster, emusic, rhapsody, musicload... you name it!
The Players
Wofgang Petters & Klaus Patzak
Guest artist: Claudia Kaiser vocals
Credits
"Weed", "It's A Long Way Home", "Sinners", "Lost Homeland" and "Cut The Strings" were written by Wolfgang Petters
"Happy Trails", "Highway Love Affair", "Old Mrs. Consequence", "Easy Come Easy Go", "Nothing But A Song" and "If You Ain't Got The Blues" were written by Klaus Patzak, published by Tunecore Publishing
produced by Klaus Patzak
Reviews
"...Million Petters & Radio Patzak haben schon oft in Bands oder für einzelne Songs zusammen-, aber bisher nie ein gemeinsames Album eingespielt. Ich bin fast sauer, dass sie anscheinend immer was Besseres zu tun hatten; andererseits gehen gewisse Dinge nicht ohne die nötigen Reifungsprozesse, hat mir mein persönlicher Weisheitsberater gesteckt. hm79 mit mehr Überraschungen als man erwartet hätte – obwohl man die stilsicheren Wanderungen durch Elektronik-Country-Pop-Soul-Gebiete, die sich kaum jemand zu betreten wagt, schon erwarten konnte. Bessere Nachrichten können wir aus dem 13. Stock unseres Blockhauses im Moment nicht erkennen."
- Franz Dobler -
"... a sort of German alt-country super-group (although they would need to sign up the Dad Horse Experience to make it a real super-group). The album "Sample & Hold" is what happens when Mr A Million Mercies and Mr Broken Radio - neither I suspect the names they were born with - set aside their solo careers and make music. Very good it is too."
- 27 Leggies -
"...klingt ein bisschen nach den guten alten Calexico... sehr sehr schön..."
- Sunday Service -
"The duo behind this project are Wolfgang Petters and Klaus Patzak who left their mark on the label Hausmusik for years now with their solo projects as well as previous bands like Fred is Dead and Village of Savoonga. On Sample & Hold they carry on this fine collabrative tradition. Their laid back American style of songwriting seesaws between country, soul and blues."
- Popcast Zündfunk / Goethe-Institut -
"...A Million Mercies & Broken Radio heißt die Übereinkunft der beiden, die mal kantig und rau, mal minimal und melodiös immer aber höchst hörenswert Country mit Blues und Americana mit Soul und Folk mischen, wobei viele Kompositionen – dem Albumtitel Sample And Hold (Hausmusik) entsprechend – mit dezenter Elektronik verfeinert wurden."
- in München -
"... sounds quite nice in that Calexico-ish sort of way ..."
- Jon Bernhardt's Breakfast of Champions, WMBR 88.1 FM -